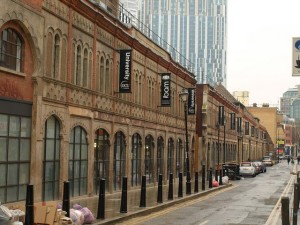 I wanted to study in London as soon as possible. Here's how I went about choosing Glasgow Caledonian University:
Like many, I started my Masters search online. I ran through the list of universities on  the League tables.  I first stumbled upon Glasgow Caledonian University after noticing it offers January courses. Moreover, it allowed me to use my American 529 plan (make sure you check if your school qualifies). Most known universities, such as London School of Economics, Kings College, and Imperial College London, only offer Fall courses. I applied to a couple of universities that started in January  and got accepted to all of them.
The Decision
I knew I could not spend a year and half without actually visiting the universities, so I took a week off from work and flew to London. I decided to visit 3 universities as I was looking for a Masters course in digital marketing. Two of the universities, London South Bank University and Glasgow Caledonian University, have January and September start dates, and they were the most affordable options (around 10,000 pounds for the entire course).
I visited London South Bank University in the neighborhood of Elephant and Castle. Upon exiting the tube station, I was met with an awful smell and crowd of people in a market. The neighborhood is in one of the poorer boroughs in London and does not have many food options besides chicken shops and markets. I went into the large university and the administration/admission staff could not help me and I could not meet anyone in the marketing department until next week. Moreover, the university seemed overwhelming with many buildings and facilities.
Next, I went to Glasgow Caledonian University in Shoreditch. Sitting right between Brick Lane and Spitalfields, the university had more affordable healthy and cheap food options than LSBU. The campus is very modern and the Internet is fast. The staff were very friendly, spoke with me one on one, and the students were very welcoming as the campus was a lot smaller than LBSU. Although the students were busy, they welcomed me and discussed the pros and cons of the school. They told me that the some of instructors were not qualified, but they learned a lot from the group projects. I sat on the decision for a couple weeks and decided to go to Glasgow Caledonian university
Preparation
The Tier 4 visa process is perhaps the most difficult and exhausting part in moving to London. The entire process took me about 2 months and cost me some $550. When you are applying, make sure to include your actual passport with your application, not a copy. Also, you have to prove you can afford living in London with your or your parent's bank statements. I forgot my passport and had to express ship it, so that they could include it in my application.  I received my passport back with my visa on it, gave my 2 weeks notice, packed my bags,  and flew to England!
Experience
Induction week was not special, although there were some fun social events that allowed me to meet with the students. I was the only native English speaking student in my program. Most of the students were either from the EU, Asia, or India. As expected, the lectures lacked deep analysis and seemed only touch the surface. However, the projects and curriculum were quite intensive and had direct applications to the marketing industry. I love the brand project, in which I created a brand and developed its positioning and marketing. There is not much class time, and the faculty expect you to study a lot on your own time, which is great for a taking a trip or two.
In the end, I ended up making a iPhone prototype application and developing a brand. The students are all very friendly and I made some great friends. Plus, I found the university perfectly situated, a 5-10 minute walk to the Silicon roundabout, where you can attend Google events etc.
Thoughts
In retrospect, this first semester has been a roller-coaster. From finding a place, looking for work and learning branding, marketing and strategy, it was all exhausting and exhilarating. I did have some time to travel to Dublin and explore London. However, I always found myself running to the tube and jumping through closing doors.
IMAGE USE: © Copyright Derek Harper and licensed for reuse under this Creative Commons Licence