You've decided to leave Uncle Sam behind for the Queen, but you need to know how to save. London is expensive and there are plenty of loop-holes and tricks to make it affordable and, in some cases, really cheap. Below, I made a complete student guide on how to go to school and live in London for less than a $1,000 per month (dollars not pounds)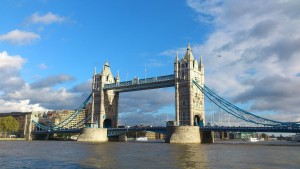 Travel
Getting there:
Plane flights and hotels are the cheapest in January - book using kayak.com - and fly on Wednesday or Tuesday. One way flights can go as low as $500 , $900 for return flights from San Francisco to London. Make sure to use a Travel Rewards credit card when making the purchase.
Daily Travel - Student Oyster card and Monthly Travelcard
Students get 30% off all passes with a student Oyster card. If you love to go out and explore London, get the monthly travel card for unlimited travel within specified areas of London. I bought zones 1-5 for 144 pounds ($215), saving 70 pounds from the discount and an estimated 250 pounds per month on journeys. Create an account here: https://photocard.tfl.gov.uk/tfl/showLogon.do?selection=student
After you register with your university tell them to approve your student card application and the card will come in the mail.
Also, if you want to save more on travel, get a 18-25 rail card with a Santander student bank account. You can save an additional 30% off, plus get these discounts on travel nationwide. However, for the additional 30% off, you will have to pay a up front 30 pound fee.
Banking:
Like the US, there's always a bank for everyone. Meaning, banks target different types of people. Here are the best banks for international student accounts:
Santander -save on travel with the 18-25 rail card. If you pay an additional 30 pounds, you can take an additional 30% discount off of travel cards and passes.
Natwest - Get a free taste card which allows you to get 2 for 1 or half off deals at major restaurants (mostly chain). This is savior for students because many can't afford to eat out, but can be more expensive.
Transferring US dollars to Pounds:
Open a Charles Schwab account as an intermediary account between your US and UK bank accounts (no ATM or Transaction costs and it has the lowest exchange rate) or use Transferwise to transfer your money to the UK account. I find the former more convenient and better.
Charles Schwab: http://www.schwab.com/public/schwab/banking_lending/checking_account
Transferwise: https://transferwise.com/
Health:
For all visa and permit holders, healthcare is completely free. Plus, your doctor (local gp) and dentist are generally a block or two away. Just search here (http://www.nhs.uk/Service-Search/GP/LocationSearch/4 ) for a gp and walk-in and register with your proof of address (lease, bill, etc). It's that simple.  For most dentists, you will have to pay 15-35 pound appointment fees, doctors are usually free.
Housing:
DO NOT get a dorm. Look to commute with your monthly travel card. The dorms are ridiculously expensive and are almost all single beds. Use http://www.spareroom.co.uk/ . I found an affordable 400 pound double room only 20 minutes away from Central. Look in east and south london along transport links such southeast line train or along northern line tube. You can find a double room for under 500 pounds easily.  When viewing, make sure they are Accredited with the NLA (National Landlords Association) - http://www.landlords.org.uk/
Food & Shopping:
When looking for housing, look at the food places nearby. This is important; it could save you hundreds of pounds.  Below is how far 20 pounds goes in each of the stores for full meals (meat, starch, and vegetables) for lunch and dinner.
Cheap grocery stores:
Lidl - 8 days - 1-2 pound meals (Good Quality)
Aldi - 9 days
Iceland - 8 days - Excellent frozen pound meals and desserts.
Mid-range:
Sainsbury - 5 days
Tesco - 7 days (low quality)
High-end:
Waitrose - 4 days (best quality, good selection of veggies)
Marks & Spencer - 4 days
Shopping/Snacks:
99p shops - buy all your basic essentials here.
Primark - get all your bedding, basic clothes, and other essentials here for under $100
Argos - If you can't wait for Amazon, get your ironing board and larger utility items here.
Topshop/H&M/Zara: get your stylish clothes and shoes here for a bargain.
Important Amenities
Mobile Phone: 
Bring an unlocked smart phone to London. You can unlock it through your carrier once your contract expires. It will save you in emergencies. If you don't have one, go on ebay and buy a cheap iPhone. I got a factory unlocked iPhone 5 for $200. You may be able to unlock it illegally here in London, but that is not a guarantee.
Network - Get 3 - As of February 13th 2015, the cell service called 3 charges only 15 pounds per month for unlimited data, text, and 200 minutes talk. http://www.store-3.co.uk/3-15-pound-deals.html
Otherwise, get orange because it's cheap and you get buy 1 get 1 movie tickets for Orange wednesdays. http://shop.ee.co.uk/price-plans/free-sim
Gyms:
There are only few cheap gyms in London, most average 30 pounds or more (e.g. Better fitness centres). I recommend buying athletic/running shoes, joining a sports group. Start with meetup.com and google searches and ask your friends. It's a great way to make friends and loose weight.
Eating out:
Here are some cheap options:
Look for street markets - many have cheap options
Get 3 pound Meal deals at Tesco, WHSmith, or Sainsbury.
Some pubs have excellent deals
Chicken shops - are gross, but some have a burger and chips for a pound.
Sandwich and Beigel shops - lots of fabulous sandwiches for a pound or two. My favorite is on Bricklane - Salmon cream cheese bagel for a pound and 60pence.
Or just save and don't eat out
Holidays:
Use Ryan Air or Easy jet to fly. Unless you can find cheap rail tickets, stick to the bus for ground commutes. I still find air travel the cheapest and most convenient way to go.