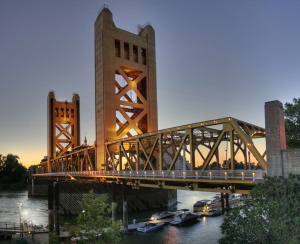 Need to find a great food spot or brewery in Sacramento? Take a look at this list of eateries, breweries, bars, clubs, and late night munchies to satisfy your food & drink cravings:
Dinner (Aka Before heading to the bars):
Hook & Ladder - $$$: A high end, yet relaxing, downtown eatery with good drinks, pizzas, pastas, and burgers. Sit outside in the back on a large wooden circular table with friends. You'll have a great time planning your next move on the night out.
Jacks Urban Eats - $: Want a full gourmet meal without paying a lot for it? Get large meat and veg loaded salads, steak, mash potatoes, macaroni, and more at this affordable order-then-sit cafe. The urban fries are glorious.
Katmandu Kitchen - $$: If you can stomach Indian food before a night out, I recommend Katmandu for its thick creamy curries, excellent palak paneer, and tandoori chicken. It's my favorite Indian food place in Sac and it's right on broadway & 17th near the heart of downtown.
Tower Cafe - $$: If your friends disagree over types of food, Tower Cafe will make all of them happy. The menu includes Thai, American, Jamaican, and more.
Petras - $: Quick Greek food that is really filling and affordable. The plates are massive and the lamb is flavorful. You can sit down or take it to go.
Jamie's Grill - $$: An Irish pub that has a killer garlic steak sandwich.  Their onion rings and sides are superb.
Paesanos Italian - $$ - With flavorful gourmet pizza and a trendy crowd, great before walking over to the bars and clubs.
Breweries (They Close Early):
Track 7 -$: A young, yet well known expanding brewery, located a couple miles away from downtown. Their IPAs are crisp,  almost perfect.  I recommend taking out Urban Fries and some sides from Jacks Urban Eats and eating at the brewery. Popular food trucks often stop there as well.
Rubicon - $: The perfect brewery with nightlife combo. Get a beer and meal here then walk one block over to most of the major clubs & bars. The beer is good, food not so much.
Ruhstaller Tap Room- $$: Unique tap room experience with high-end local beer in downtown.  They claim you need an appointment, but many claim you can just walk in.
Bike Dog - $: A pleasant West Sacramento brewery with great selection and food trucks available.
New Helvetia -$: Get a flight a this brewery on broadway. The beer is good and sure is interesting.
Pubs/Beer Gardens:
Fox & Goose (English Pub) -$: I've lived in London and this pub is the closest you'll get to the real thing in Sacramento. Real English ales, great atmosphere, and decent food.
Streets of London (English Pub)- $: Some English ales, excellent fried food, and conveniently located downtown so you can pop in before going to the clubs. Not as traditional as Fox & Goose, nor as good of beer.
Low Brau (German Beer Hall) -$: Trendiest venue for millennials right now. Good beer & food. Excellent location. You'll find also a good looking crowd as well.
Pangaea (Gastropub)- $$: I argue that it has the best beer selection in Sacramento. They have sours, IPAs, Belgiums, and more.  Gourmet meals and sides are available.
Biergarten (German Beer Garden)- $: Best outdoor downtown venue. Best German beer available in Sacramento, lots to choose from, and decent food as well. Play corn hole or ping pong or just get a large glass of easy to drink german beer.
Tank House- $$: Another good beer and greasy food joint close to all the bars and clubs.
Bars:
Zebra Club: Get really cheap strong mixed drinks here or get a PBR, near Press Club for a cheap night out.
Pour House:  Catch some live music and get your own group draft, but prepare to walk a couple of blocks back to K.
Dive Bar: Watch mermaids above the bar swim as you sip a beer or cocktail. This K street establishment
Shady Lady: Go back to the roaring 20s, enjoy classy specialty cocktails, and eat some amazing
Gay Bars:
Mercantile Saloon- $: really stiff cheap drinks that will make you regret you ordered it. They free pour if you know what that means.
The Depot-$: Play some pool or meet a friend right next to the Badlands. They also host drag shows and watch new episodes of RuPauls drag race.
Clubs: 
Faces (Gay) $$: Large,  many rooms for different crowds, although not as many hotties as Badlands. Go early and you may get in free.
Badlands (Gay) $$: Good-looking crowd, jello shots, go-gos, and cute boys and girls. You'll never want to leave.
The Park $$$: Great for a chat or a dance. This trendy bar/club is for people who want to dance.
The Mix $$$: Older crowd,  interesting atmosphere, good siting areas, but don't expect good music.
Press Club $: Great music (classics of hip-hop, RnB), cheap cover, and cheap drinks. Simple, fun, refreshing.
Late Night Munchies:
Mels Diner-$$: Almost Everything  American is on the menu. Sit down, choose, and you'll be in heaven. I recommend the Monte Cristo Sandwich.
Willies-$: My favorite chili-cheese burger in Sacramento. Top it off with season salt and a side of chili-cheese fries.
Jack in the Box-$: Oreo shake & Cheap Tacos! Find a local jack in the box and your night will end right (if you can stomach the morning pain).
La Garnacha or Carolinas-$: These taquerias are heavy, but wonderfully greasy. Just gorge your heart out after a long night of clubbing to one of their burritos.
Tako Korean BBQ -$: I've heard a lot of good things about this place. They stay open late. So if you can handle it with your stomach,  try it out.
Image Credit: Michael Grindstaff - Released to Public Domain